Trail Completed from The Mountain View Grand to Mount Prospect / Around the Mountain Trail on December 15, 2013.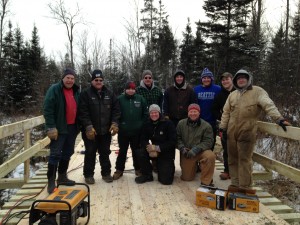 Thanks to Beattie Enterprise, P & R Excavating, The Mountain View Grand, the volunteers of the club – Shane, Tyler, & Spencer Beattie, Paul Crane, Ken Bolland, Greg Wescott, Steve Wallace,Shawn Whiting, Haden Gonyer, Hunter Griswald, Mark Deroschers, Matt Maccarone, Doug and Steven Shearer, Keith & Mattie Kopp, Alex Kopp, Brian Doyle, and Normie Vashaw. Stop by The Mountain View Grand for a beverage and a burger!
There will be noise…on a brand new trail!