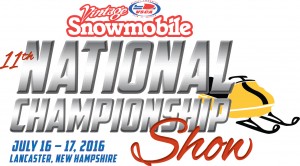 11th Annual Vintage Snowmobile Club of America
National Championship Show
Sled Entrants Information
The Vintage Snowmobile Club of America (VSCA) 11th Annual National Championship Show for 2016 will be held at the Lancaster Fairgrounds on Main Street in Lancaster, NH on Saturday, July 16 and Sunday, July 17, 2016.
Hours of the event are Saturday 9:00 am to 6:00 pm and Sunday from 9:00 am to 2:00 pm.
We welcome all entrants who would like to show their vintage sleds and compete for winners in our classes. Hosted by the Lancaster Snow Drifters, we welcome you to Lancaster for this event. Following is information necessary for entering sleds in the event.
Admission to Fairgrounds — All VSCA registered sleds will be admitted to the Fairgrounds to set up on Friday from 8:00 am to 9:00 pm. All sleds must be completed with setup by 9:00 pm. Fairground buildings will close for the night at this time. Security will be on duty thru the night. All registered sleds will be under cover.
Weekend passes must be purchased on Friday for entry to the grounds.
Directions to Fairgrounds – Main Street in Lancaster runs on Route 3 thru the town. Coming from the East, West or South thru the Northern intersections of Route 2 & 3, you will go one mile North on Route 3 and the fairgrounds will be on your left. Continue to the fairground entrance marked GATE 1 to enter the grounds as a participant.
Display Locations – Staff will be available to assist you to your area as you arrive, sites will be available on a first come basis. If you wish to be near a particular participant, please line up with that person as you enter so you will unload in order. All areas will be marked. Please be sure your display is within this area at all times.
Participation Fees – Fees must be paid with the advance registration form.
Costs:    $45.00 for the 1st sled, which includes the packet
$ 5.00 for each additional sled up to 6 sleds total
$10.00 each additional sled over 6, maximum allowed 12 sled total.
All registrations must be submitted and paid by July 9th, 2016. No refunds will be issued after this date.
A wristband will be required for admission Friday, Saturday, and Sunday.
Packet Information – Each participant bringing his sleds will receive (1) weekend pass in the packet. In addition, there will be items such as a dash plaque, decals, and (1) T-shirt (be sure you designated your preferred size on the registration form) (1) dinner ticket for Saturday night. Additional tickets may be purchased in advance for $15.00 each to the dinner. Windshield registrations will accompany all entrant packets.
Please remember, no soliciting will be allowed by VSCA sled participants, and no alcohol is allowed on the Fairgrounds during show hours.
Pricing for admission to the events are as follows:
Daily Admission: Friday General Admission       $ 8.00
Saturday General Admission   $ 8.00
Sunday General Admission     $ 5.00
Weekend Pass                  $15.00
The VSCA National Awards Ceremony will be held on Sunday at 12:00 noon. All participants must keep their sleds in FULL DISPLAY until 2:00 pm. All sleds must be removed from the Fairgrounds by Sunday night.
Limited campsites are available at the fairgrounds for overnight camping on a first come, first served basis. Water and electricity included, sites are $45.00 per weekend and with water, electricity and sewer are $55.00 per weekend. Register early to assure a site.
The Lancaster Snow Drifters and the Town of Lancaster welcome all to the 11th Annual VSCA Show and hope you have a great weekend with us!
Download Details and Entrant Forms
Vintage Snowmobile Club of America Class List
Vendor Participant Information
Questions?  Call one of our event coordinators:
Shane Beattie at 603-481-1219
Ken Bolland at 603-631-6439
Paul Crane at 603-443-7272
Ed Stabb at 315-942-5575